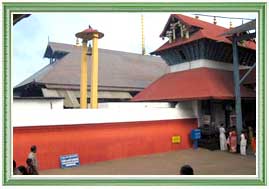 Guruvayoor Temple is located at 29 km to the west of Trichur and is one of the most respected and popular pilgrim centers in Kerala. The temple is dedicated to Lord Krishna, with its origin dating back to the 16th century. Legend has it that when the temple at Dwarka, dedicated to Lord Krishna, was destroyed at the time of the submerge of the holy city of Dwarka in the sea, Guru, the preceptor of Gods and Vayu, the God of Winds, were bestowed with the task of finding a similar sacred site for constructing a new temple. When the place was finally selected, it was named Guruvayoor and the deity came to be known as Guruvayoorappan.
It is believed that Lord Brahma worshiped this very idol at Dwarka. Lord Shiva is believed to have performed Tapas and worship Lord Vishnu under the water of this sacred tank which is now located on the northern side of the temple. The temple is often referred to as "Bhooloka Vaikuntam", meaning the holy abode of Lord Vishnu on earth. The daily puja routines at the temple are strictly followed without any compromise. A tour to Guruvayoor Temple will enlighten you about the religious beliefs and traditions of the people of Kerala.
On your Guruvayoor Temple tour, you will notice a 33.5-meter high gold-plated 'dhwajastambham', also called flag-mast in the 'chuttambalam' or the outer enclosure of the temple. The 7-meter high 'dipastambham' or pillar of lamps has 13 circular receptacles, which glow magnificently in the evening when the diyas are lit. After this, comes the entrance to the main shrine. The inner sanctum has ten pillars on the two raised platforms with beautiful carvings on either sides of the main aisle. The square-shaped Sri Kovil is the sacred sanctum of the temple where the main deity can be viewed.
The temple walls are adorned with exquisite paintings and huge murals. The temple is well-known for its magical healing powers. Idols of Lord Ganapati, Sri Ayyappa, and Edathedathy Kavil Bhagavathy can be seen in this temple. The temple only allows Hindus to enter where men are to wear mundu around their waist and women are to wear saris. Boys are allowed to shorts but wearing shirts is restricted and young girls are to wear long skirts and blouses. Guruvayoor is the only temple in Kerala where wedding ceremonies and annaprasanam (the first rice feeding ceremony of child) are held.