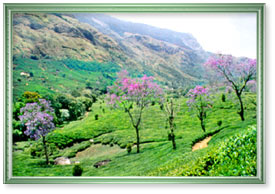 Munnar is positioned at the confluence of three mountain streams namely Mudrapuzha, Nallathanni, and Kundala. It is located at an altitude of 1600 m above sea level and was once the summer resort of the erstwhile British Government in South India. Sprawling tea plantations, winding lanes, picture book towns, and holiday facilities make Munnar a popular tourist resort. Munnar enjoys a salubrious climate with temperatures ranging from 10
0
C to 0
0
C. Amongst the entire exotic flora found in the forests and grasslands of this region, the most distinguished is the 'Neelakurinji'. The monsoons are exquisitely charming in Munnar as even a little downpour rejuvenates several small streams and rivulets.
Munnar is home to the highest peak of South India, Anamudi, rising to a height of over 2695 m, making it an ideal spot for trekking. What's more, it is also famous for trekking and is one of the few most popular treks in Kerala, allowing you to trek through misty clouds which hang real low due to high humidity, low temperature, and low pressure. Due to its diverse landscapes and ever dynamic weather, Munnar is at times called "Switzerland of India". The tea and coffee plantations look mesmerizing early in the morning or soon after rainfall as they get heavenly enshrouded with mist and enclosed with dew drops. The Munnar travel guide journeys you to several tourist destinations in one of the most famous hill stations of South India.
Munnar Attractions
A paradise for an ardent nature lover, Munnar is nestled amid lush green and peaceful surroundings, etched between panoramic hills. Being a hill station, Munnar obviously boasts of having a number of captivating places of scenic as well as cultural interest. Munnar earlier was a British colony, used by the British during summers for their summer cottages. Take a look at the different sightseeing options in Munnar, herein.
Munnar Excursions
Munnar has the right to be called the most traveled adventure tour destination of Kerala because of its hilly terrains and scenic landscapes. Explore the various tourist spots close to Munnar that make enjoyable and spectacular excursion options.
How to Reach Munnar
Lush green carpeted lands of tea bushes coupled with the silver greens of oak, Munnar Mountains have them all to mesmerize you. Traveling in Munnar is quite a task if one does not have a personal vehicle. As such, roadways turn a lifeline for Munnar with the wide network of roads connecting Munnar in and out. Check out how you can reach the beautiful and captivating hill station of Munnar with ease and convenience.
Shopping in Munnar
Unlike other historical and big towns of Kerala, Munnar is not a famous shopping destination. Munnar is known for its tea and spice plantations; thus, giving you ample opportunities for tea and spice enthusiasts in Munnar. Here, you can find several factories, shops, and outlets, where you can explore different types of teas and spices, making them ideal gift options as well.
Munnar Hotels
In Munnar there are number of Government and private hotels where one can check in and spend time. A number of decent three star hotels are available with the availability of rooms according to your convenience.