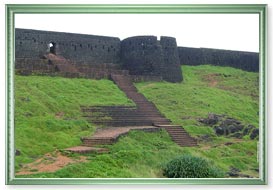 Kerala is full of surprises and fascination, with every destination tempting you to fall in love with its ultimate fairyland-like beauty. Kasaragod is among such heart-stirring places in the state lying in the northern-most district, offering magnificent espies of divine natural beauty. Framed by amusing forests capped Western Ghats in the east and the dramatic and captivating Arabian Sea in the west, the town has become a nature's boon. Further, grey rocks and arid land amidst thick vegetation, serene lagoons, and tall coconut palms, elevate the beauty of Kasaragod. It is immensely famous for its numerous coir and handloom industries. The district cuddles in the laps of spectacular waters, dense and fascinating forests, and ample mineral resources. Kasaragod showcases a harmonious accordance of Hinduism, Islam, and Christianity.
Peeking into the past, this little district was popular in the 9th and 14th centuries as Arab sojourners visited Kasaragod then. In Kasaragod, there are several temples exhibiting distinct styles of architecture. The famous sacred Madhur Mahaganapathy Temple is one of them, built in the typical Kerala style. The impeccable and majestic attraction of the district is the internationally recognized Bekal Fort and Beach. This fort is a must-visit and carries great historical and archaeological importance. Interestingly, the land base on which it is built goes into the sea waters with a nice bay running towards the south. There are numerous other interesting sites in Kasaragod which can make your visit even more charming and delightful. Kasaragod guide will expose you to all aspects of tourism in and around this beautiful district.
Kasaragod Attractions
Kasaragod is analogous to the old sod of Gods, mesmerizing beaches, oozing and splashing rivers, lush green hills, and magnificent forts. Situated in northernmost Kerala, Kasaragod is one of the destinations that are, till date, unadulterated by humans for urbanization. When you are in Kasaragod, besides gazing the natural beauty, there are many interesting sites which bring you closer to the district's history, culture, and beauty.
Excursions from Kasaragod
The exquisite untouched land, perfect to unwind oneself, Kasaragod is among the major attractions of Kerala. This little glaring district, established on May 24, 1984, is wrapped in the beauty of fascinating Western Ghats on the east and glimmering Arabian Sea on the west. From the visitor's point of view, there are many tourist attractions within and around the district. Kasaragod excursions take you to exciting sites around that are great for rejuvenating picnics and ultimate fun, making the tour unforgettable.
How To Reach Kasaragod
Kasaragod is one of the most scenic and charming districts of Kerala where nature oozes out breathtaking beauty. It showcases a marvelous amalgamation of dazzling beaches, glittering rivers, opulent green hills, and historical structures. The district is well-linked with the entire Kerala and country by various modes of transportation. Check out the details of reaching the district in the following lines.