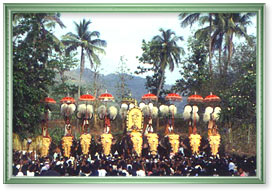 Kerala, popularly known as "God's Own Country", has a number of popular pilgrimages to boast of. An exquisite example of cultural prosperity and secular unity, pilgrimages in Kerala do not belong to a particular religion but are related to Hinduism, Christianity, Buddhism, and other religions. The capital city of Thiruvananthapuram is also known as the "city of temples" as it alone houses hundreds of sacred temples. The state is the birth place of Ayurvedic massages and is popular for its therapeutic treatments which imbibe meditation and yoga. Kerala provides a pure and tranquil atmosphere where one can chant prayers, invoke the deities, and participate in temple festivals. Visit the state anytime round the year and you will find one fair/festival or the other being celebrated, with all of them having one thing in common - the elephants which have a special place in the hearts of the people of Kerala.
They are these elephants that form an integral part of all fairs and religious ceremonies. Some of the important pilgrimage destinations to visit include Guruvayoor, Sabarimala, Chottanikkara, Attukal, Bharananganam, Malayatoor, Maramon, Parappanangadi, Niranam, and Kottayam. Besides, there are a number of mosques and churches that offer a holistic feeling to the spectators. Plus, since Kerala is influenced by Portuguese customs and traditions, you can find several ancient Jewish Synagogues in the island town of Fort Kochi. Purity and benevolence, coupled with divinity and good spirits, ensure that your pilgrimage tour to Kerala is a joyful and peaceful voyage. Come and experience an enigmatic refining process amid spirituality and sanctity.
Parthasarathi Temple
Situated at the bank of Pampa River, Parthasarathi Temple draws large crowds of devotees. Lord Krishna at Aranmula is worshipped in the form of Parthasarathi which is an image of Lord Krishna from the epic book "Mahabharata" where he is referred as the divine charioteer. The Parthasarathi Temple is significant because of the sacred jewels of Ayyappan, the temple god of Sabarimalai which are taken out on a procession.
Cave Temple Kollam
One of the most exotic pieces of architectural marvel amongst the number of temples present in the state of Kerala is Cave Temple of Kollam. The architecture of this impressive temple is amazingly intricate and arouses great curiosity. The cave temple is carved out from a gigantic piece of rock, lying in the middle of a paddy field, which gives the impression of a sleeping elephant just about to wake up, from distance.
Kaviyoor Temples
One of the ancient 64 Brahmin settlements of Kerala that has been appearing in history books for quite sometime now, Kaviyoor is a small village situated on the western bank of River Manimala in Thiruvalla Taluk in Pathanamthitta district. Previously known as Kapiyoor, this minuscule parish is famous for its treasure of magnificent ancient temples.
Kodungallur
Situated 35 kilometers south of Thrissur District, Kodungallur town was once an important port and capital of the Chera Kings during 7th century AD. It was once a part of the famous port city, Muziris which is still engrossed with rich history, even though it was destroyed by the massive flood of Rive Periyar in 1341 AD.
Malayatoor Attractions
Situated about 47 km from Kochi on the slopes of Western Ghats, Malayattoor literally means a place where plains, mountains, and rivers meet. Malayattoor is popular for the Catholic Church which is situated between the natural forests. Legend has it that St. Thomas had to face hostile reception when he visited India because of which he took refuge on top of a mountain, where the church is present today.
Parassinikadavu Sri Muthappan Temple
Most noted for the renowned Muthappan Temple, Parassinikadavu is situated in idyllic environs, 20 km away from Kannur, in North Kerala. Natural beauty, coupled with exotic rituals, make this place a significant pilgrim spot for worshippers and pilgrims. Located on the banks of the banks of Valapattam River, Parassinikadavu Muthappan Temple is dedicated to Sree Muthappan, the most popular and eminent local deity.
Niranam Pilgrimage
The Church at Niranam, known as St. Mary's Orthodox Syrian Church, is situated 7 km from Thiruvalla and is believed to be among one of the seven-and-a-half churches originally established by St. Thomas in 52 AD in Kerala. St. Thomas was one of the twelve apostles of Jesus who traveled across the globe to spread the message of Jesus Christ.
Ochira Pilgrimage
A striking feature of the Ochira Temple is that unlike the conventional temples which have definitive structural layout and mode of worship, this temple does not have a proper organization or even for that case, an idol for devotees to worship. The entire concept of worship in this temple revolves around the Parabrahmam or the universal consciousness.
Sabarimala Temple
Sabarimala is one of the most famous and highly visited pilgrimage centers in India, particularly in South India. Being the most prominent and one of the oldest Sastha temples in Kerala, Sabarimala is located on the mountain ranges of the Western Ghats and is accessible only by foot from Pamba, at about 4 km. The Sabarimala Temple is dedicated to the Hindu God Ayyappan who meditated at this place after killing the powerful demon, Mahishi.
St. Francis Church
Considered as the first European church built in India, St. Francis Church is situated at Fort Kochi, Ernakulam district, Kerala. Interestingly, Vasco da Gama, the first European to discover the sea route and enter India, was buried here at the St. Francis Church, but later his remains were transported back to Portugal, though one can still visit his tombstone which is still intact in the church complex.
Thodikkulam Temple Kannur
Thodikkulam Siva Temple is located about 2 km from Kannavam near Thalasserry in the Kannur district, surrounded by the distant greens of North Kerala. The Siva Temple at Kannur is popular because of its beautifully painted walls with mural paintings depicting different themes and scenes from Indian mythology and epics.