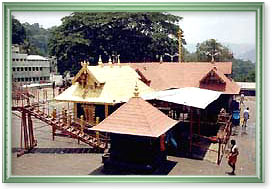 Religion is the most important part of social life of Indian people and Kerala is no different to this. Of all the religious places, temples are more homogenously spread across all parts of Kerala. These temples are dedicated to various gods and goddesses from Hindu mythology. Many of these temples are known for their architectural style and magnificent sculpture, with most of them being carved in the true traditional techniques. Some of the most prominent temples in Kerala include Padmanabhaswamy Temple, Vadukkumnathan Temple, Vaikom Temple, Mannarshala Temple, Ananthapura Lake Temple, and Ambalapuzha Temple.
Sabarimala Temple
Sabarimala is one of the most famous pilgrim centers of Kerala. This holy shrine at Sabarimala Temple, located atop a hill in the Western Ghats, is dedicated to Lord Ayyappa. Sabarimala is believed to be named after Shabari, who carried out sacrament in order to meet Lord Rama. Every year, two main events take place at Sabarimala Temple, namely, the Mandal Puja and the Makara Sankranti Puja, which begin in the month of November and continue till mid January.
Guruvayoor Temple
It is in Guruvayoor that Sri Krishna Temple is located and is regarded as one of the most sacred and important pilgrim centers of Kerala. Local belief has it that the temple was created by "Guru", the preceptor of the Gods, and "Vayu", the God of winds. This temple alone hosts the maximum number of marriages and rice feeding ceremonies, a ritual of the first meal for infants, in the state of Kerala.
Chottanikkara Temple
Located near Ernakulam enshrines Bhagawati, the mother goddess, lies the Chottanikkara Temple. The deity is one of the most popular in Kerala and it is believed that people suffering from any mental illness are cured after worshipping here. The goddess is worshipped in three different forms - as Saraswati in the morning, clothed in white; as Bhadrakali at noon, dressed in crimson; and as Durga in the evening, clad in blue.
Sri Padmanabhaswamy Temple (Trivandrum)
Sri Padmanabhaswamy Temple is dedicated to Lord Vishnu. The temple is an amazing structure with a 100-feet high 'gopuram', built in Dravidian style. The gold plated idol of Lord Vishnu reclining on the serpent Anantha, made out of a rare composition known as katu sarkara yogam, is considered to be an incredible marvel. The temple is also known for impressive mural paintings and splendid stone carvings.
Vadukkumnathan Temple (Trichur)
Vadukkumnathan Temple is the famous Shiva temple, located in Thrissur (Trichur) district of Kerala. This temple is not only the oldest, but also the largest temple of Lord Shiva in the state. This temple is said to be constructed by one of the Avatars of Lord Vishnu, known as Parshurama and is a fine example of classic Keralite style of architecture with murals. The temple also houses a museum of ancient wall paintings, wood carvings, and artifacts of historical value. The temple has been declared as a National Monument by the Union Government.
Other famous temples of Kerala include Koodalmanikyam Temple, Lokanarkavu Temple, Mannarshala Temple, Sivagiri Temple, Kalpathy Temple, Ettumanoor Temple, Thiruvalla Temple, Thirunavaya Temple, Oachira Temple, amongst several others.