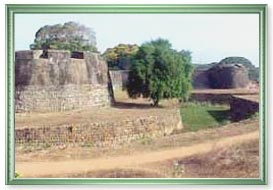 Palakkad, also known as Palghat, is one of the most fertile and thickly forested districts of Kerala. A land of palm trees and paddy fields, it is known to be rich in flora and fauna. The name Palakkad is supposedly derived from the 'Pala' tree which bears sweet scented flowers and 'Kadu' meaning forest. The 'Pala' trees are believed to have covered the entire area in the past. Palakkad, which lies at the foothills of the colossal Western Ghats, comprises of plains, scattered with few hillocks. The plains of Palakkad are immensely fertile and productive, thereby giving the district the nickname of "Granary of Kerala".
The biggest mountain pass in the world, running at 30-40 km, lies in Palakkad, which separates the two folds of the Western Ghats on the border of Kerala with Tamil Nadu. Palakkad is the second district in Kerala, which has the rare distinguishing characteristic of not having a seacoast. Kerala's longest river, Bharathapuzha flows through the Palakkad district. During the hot season, its wide sandy bed is dry except for some miles from its origin. Being too shallow and rocky for water transport, the Bharathapuzha has little commercial significance but holds a special place in the cultural psyche of the state, as the rivers are considered sacred in Hindu culture.
Palakkad is regarded as the "Gateway to Kerala" and is one of the most important travel destinations in Kerala. Fertile valleys, gurgling mountain streams, exotic flora, and sweet scented blossoms together offer an amazing holiday experience in Kerala. Nature has blessed Palakkad generously with its natural treasures, chronological background, and remnants of Tipu Sultan's Fort. The Palakkad travel guide explores and highlights various historical, cultural, and tourist destinations in Palakkad.
Palakkad Attractions
Nestled in the eastern border of Kerala and Tamil Nadu, at the foothills of the gigantic Western Ghats, lies Palakkad - a place oozing out bravura natural beauty and extremely beautiful lush greens. Palakkad is blessed with a number of memorable and striking places which are of great cultural and historical importance.
Palakkad Excursions
Palakkad is a tranquil and unexplored city, snuggled in the panoramic vistas of high mountains and breathtaking greenery. One is bound to become a part of the idyllic life and culture of the natives here, as the simple living standards and uncomplicated lifestyle of the natives attract all. Explore the different attractions around Palakkad that make it a pleasant and charming place to visit.
How to Reach Palakkad
Palm trees, paddy fields, green mountains, sparkling rivers, soothing lakes, and spellbinding vistas constitute the district of Palakkad, sited 350 km north of the capital Thiruvananthapuram. Scroll through the lines below to know the different modes of transportation for traveling to and around Palakkad.