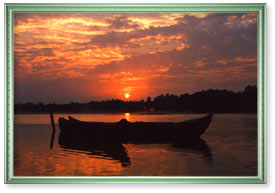 The climate of Kerala is tropical like most parts of India. Due to close proximity to sea, the temperature of Kerala remains equable for most parts of the year. The state does not have a continuous dry spell, with the summers lasting from mid February to mid May. The tropical sun during the summer months can be felt extremely hot because of the relatively high humidity with the maximum temperature shooting up to 35
0
C. Kerala receives most of the rainfall from North East Monsoons, which touch the state in mid May and frequently shower till early September. Besides the North East Monsoons, Kerala also receives showers from the South East Monsoons which knock in the last week of September and stay till early November.
The winter season in Kerala, lasting from mid October to early February, is mild as the temperature drops a bit but the weather is never too chilly in Kerala. However, the hill stations that lie along the Western Ghats range can get a bit chillier in winters with temperature falling to 10
0
C. At these hill stations, misty days, freezing nights, and odd cold showers become a regular. However, the average temperature in Kerala in winters remains within the range of 28
0
C to 32
0
C. The presence of the Western Ghats on the eastern side of the state and across the path of the southwest monsoons creates an important climatic zone with abundant rainfall on the windward side and a dry belt on the leeward eastern side.