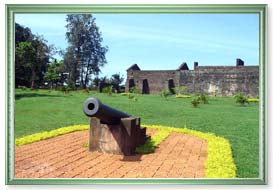 Nested far flung from the sapping life of the city, lies the magnificent Kannur. It is the nature's most enthralling zion-like district of Northern Kerala, revered for its breathtaking scenic beauty and misty waves of the Lakshadweep Sea, dousing the sands of affectionate beaches. Kannur's charm is even more elevated with dazzling lining of flourishing green coconut palms and extensive rivers which break into scintillating drizzles and thereafter, blend into azure sea waters. Kannur is among the largest cities in the northern Malabar region. This beach town revels in great historical heritage with numerous interesting legendary stories. Kannur is an erstwhile capital of the Kolathiri Rajas, the competitors of the Zamorins of Kozhikode. Initially, this place acted as one of the main ports and today, it is popular for its fantastic handloom and beedi industries.
Interestingly, a good number of Kerala's excellent weavers come from Kannur. A famous Christian merchant, Marco Polo mentioned to Kannur as "a great emporium of spices." Kannur witnessed the Portuguese in the 15th century who founded one of their initial settlements here. Kannur's well-known St. Angelo's Fort which was constructed in 1505 suggests this fact strongly. Most of the past of Kannur features foreign invasions and activities of colonial powers. Visitors to Kannur can explore marvelous shorelines, serene backwaters, divinely spiritual temples, and shop for some finest handlooms. Another eye-catching attraction of this city is Theyyam, an impressive ancient ritualistic folk art form. The Kannur city guide introduces you to several aspects of the city, not only focusing on the history and culture of Kannur, but also the excursion destinations in and around the city.
Prime Attractions Kannur
Kannur, formely known as Cannanore and popularly called "The Land of Looms and Lores", is one of the most enticing districts in Kerala. Kannur beholds great multihued folk music and art of the state, thereby playing a huge production house of finest handlooms. Of course, the city is dotted with numerous tourist attractions which are a must-see when you are in Kannur.
Kannur Excursions
Kannur, a land of myths and legends, is a place showcasing an enchanting mlange of magnetic scenic beauty, glorious past, and mesmerizing attractions. Apart from the ultimate attractions within Kannur, there are some extremely enthralling and beauteous sites around the city which are definitely a must-visit and make your sojourn immensely memorable.
How to Reach Kannur
A perfect and idealistic Shangri-la to experience the ultimate aura of sparkling natural beauty is Kannur. It is a beautiful and ideal destination for joyous and serene vacations. The numerous charming sites situated in and around the district, make Kannur worth visiting. Journeying to the district is easy from anywhere. To get the wholesome information on how to reach Kannur, go through the lines below.