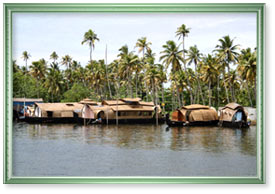 Alappuzha, or Alleppey, is one of the most famous and perfect sites to discover the unspoiled countryside terrains of Kerala. Situated on the shores of the beautiful Vembanad Lake, Alappuzha is a mlange of stupendous canals, prodigious bridges, startling silver beach, refreshing green paddy fields, lofty coconut trees, and gleaming waters, offering some of the most eye-soothing and gorgeous endless horizons. Its dazzling backwaters and a vast system of waterways echo its commercial life. Alappuzha's common glimpses of marvelous sandy beaches, dotted with dense palm boscages, create some spectacular panoramas for great clicks. The town was once regarded as a well-known port along the Malabar Coast. The mirthful aromatic air of this bizarrely charming land rejuvenates you completely. This town also celebrates colorful and joyous water carnivals, comprising of appealing huge snake boats and canoes of different sizes.
Alappuzha is the cynosure of various backwater houseboat cruises in Kerala. To truly adore an excellent natural scenic beauty of the town, a stay at a houseboat is a must. Generally the town's temperature remains moderate and humid, but during winters, it drops down to be quite pleasing. By witnessing the exotic bright sunrays dancing and shimmering on the water waves, you are bound to be immensely delighted. Apart from houseboats, Alleppey has a large number of luxurious hotels and lavish resorts to cater every single need of its visitors. The inhabitants' warm welcome charms you to the best. The best season to explore Alleppey commences from August until March. If you are the one who's been searching hard for a poetic and sublime backwater destination, Alappuzha awaits you.
Alappuzha Tourist Attractions
Alappuzha is popularly and authentically recited as the "Venice of the East" due to its wow natural beauty. This artistic town is engulfed with pictorial canals, dramatic shores, lyric backwaters, and captivating lagoons with some fabulous vistas of flourishing green meadows. It is blessed with a hoard of attracting temples, churches, and palaces.
Alappuzha Excursions
Alappuzha or Alleppey is a wondrous destination in Kerala, offering splendid landscapes with its ethereal backwaters against enchanting lush green meadows. Besides the main town of Alappuzha, there are numerous enticing and interesting places situated adjoining the same. These places propose some excellent picturesque vistas, peaceful ambience, and structures of historical significance. By visiting these nearby sites, visitors get introduced to the insight of the entire region's history.
How to Reach Alappuzha
Alappuzha, or Alleppey, is a well-known destination to explore the astounding beauty of halcyon backwaters and winsome canals. The town is famous for its enjoyable, joyous, and comely backwater cruises on the traditional houseboats (kettuvallams) of Kerala. Apart from the main town, there are several interesting and beautiful places situated nearby which immensely attract visitors. You can reach this marvelous land with almost any mode of transportation, be it air, rail, road, or water.