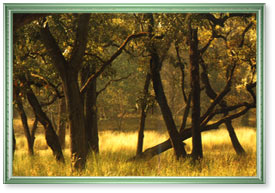 Wayanad is a nature lover's paradise, situated between the mountainous plateaus of the magnificent Western Ghats. Providing panoramic vistas of surging mist clad hills, Wayanad has been blessed with an exclusively wonderful geographical position. This little beautiful hill station is sited on the southern top of the Deccan plateau, with its chief glory being the imposing Western Ghats with lofty ridges and rugged terrain interspersing with dense forest, tangled jungles, and deep valleys. The clean, enchanting, and unadulterated land of Wayanad is filled with tradition and cultural heritage. The hill station is a storehouse of abundant flora and fauna.
The Wayanad district is clean and virgin, as it is scantily inhibited which help the nature to maintain its idyllic beauty. The place enjoys a strategic location with the leading tourist centers of South India, like Ooty, Mysore, Bangalore,
Coorg
, and Kannur being located close by. Wayanad is renowned for the luxuriant plantations of coffee, tea, cardamom, pepper and rubber, which are strewn all over the hills. The natural scenic beauty of Wayanad and its rich natural resources offer several opportunities for adventure tourism. This place offers excellent wildlife viewing opportunities, an insight into tribal culture evocative of earlier centuries, trekking, and a variety of remote monuments. The Wayanad travel guide explores various travel sites in and around this superlative destination.
Wayanad Attractions
Wayanad is a splendid and glorious hill station, rich not only with the queen of scenic beauty and picturesque landscapes, but with its prosperous and enchanting cultural and traditional heritage. Glance through the lines below to find out the different exciting and enthralling tourist attractions in Wayanad.
Wayanad Excursions
Looked in the midst of sprawling greenery, giant mountains, superb landscapes, and pictorial vistas, Wayanad is a small hill station, oozing out supreme beauty and charm. Not that Wayanad is bountiful of tourist attractions within its boundaries, but it also has numerous worth-visiting places beyond its limits. Check out the different places that deem perfect excursion sites around Wayanad, as you scroll through the lines below.
How to Reach Wayanad
A bio-diverse region, stuffed with enchanting landscapes, clean and pristine beaches, green paddy fields, gigantic mountains, hypnotizing history and culture, and affable localites, lands you in Wayanad - the "Land of Paddy Fields". Read further to check out the most convenient and comfortable way of journeying in and around Wayanad.