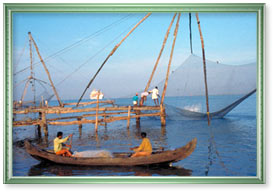 Kerala presents a varied relief throughout its length and breadth and is well connected to the rest of India by road, rail, and air. Since Kerala is a popular tourist destination, luxury, semi-luxury coaches, and tourist taxis are easily available in most cities and towns. Buses and auto rickshaws also operate within the state if one is looking for budget traveling. Besides, ferries operate on a regular basis and although slow, is a great way to travel along the backwaters and adjoining beauty, making it worth the trip. Have a read at what all options are available and decide which one(s) serves your needs the best.
Taxis
Although expensive, tourist taxis are available throughout Kerala and are a great way to cover short distances. Cars, like Ambassadors (mostly without air condition) and Indica (mostly air conditioned), are operated as taxis and are among the top players. The facility of renting a car with or without chauffeur for intra or intercity drive is also available in some important cities and towns of Kerala. Day cabs are also available at Rs. 450 for a 4-hour trip and Rs. 850 for an 8-hour trip, both within the city limits.
Auto Rickshaws
For local city transportation, auto rickshaws are easily available in all cities and towns at local stands. Also called autos, these three wheelers can be found in abundance near railways stations and airports across Kerala and are great to travel within the city and are relatively cheaper than the taxis. If you feel that the drivers are overcharging you, simply ask them to start the meter at the start of your journey to avoid any hassles at the time of fare payment.
Local Bus Services
Kerala Transport Corporation and private bus operators operate local bus services at regular intervals. These bus services not only connect the cities and towns of Kerala but also towns and cities of neighboring states. These buses have been classified into 4 categories, namely, Ordinary, Fast Passenger, Super Fast, and Deluxe Express. Most of these buses are crowded and travelers are advised to be alert of pickpockets. Apart from these, air conditioned Volvo buses also operate in Kerala, but mainly between metros and cities.
Railways
Though Kerala offers an undulating relief, the state has a decent network of intercity passenger trains that connect many important cities and towns of Kerala. However, the flat southern side of Kerala is better connected with local railways as compared to the mountainous north. Express trains, which are faster than intercity passenger trains, are also available but only stop at major stations.
Aviation
Kerala is well connected by air to important destinations in India. There are three airports - Thiruvananthapuram, Kochi, and Kozhikode, of which the first two are international airports. Helicopter and air taxis also operate between Kochi and Trivandrum but prove to be an expensive option.
Ports
As Kerala is a coastal state, people use boats and ferries for local transportation and fishing. Kochi is a major port and has been a great center of trade and commerce for centuries. There are some intermediate ports and minor ports in Kerala, offering inland water transport system in Kollam, Alappuzha, Kottayam, and Ernakulam districts.