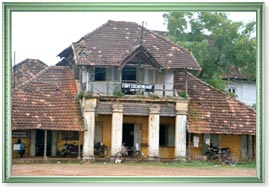 Kochi, formerly known as Cochin, is among the most seminal and important cities of Kerala since a long time and is popularly acclaimed as the "Queen of the Arabian Sea". This beautiful city is one of the major seaports of India as it houses some finest and astounding natural harbors endowed on India's coast of Arabian Sea. Kochi is situated in the district of Ernakulam, about 220 km from the state capital, Thiruvananthapuram. The city plays a principal commercial and industrial hub for Kerala. Besides, it has been a major trade center, especially for foreign traders, for centuries now. In the past, several seafarers from Arabia, Holland, Britain, China, and Portugal have contributed to this beautiful island city's colorful culture and elite lifestyle. Cochin's cosmopolitan status is evinced in the structures displaying styles.
The dawn, in Kochi, is marked by a startling overlay of tinged illumination where alluring sea and sky merge. Kochi is listed among the most-liked and desired holidaying destinations in Kerala. Its wondrous beauty is a result of titillating and gorgeous Arabian Sea against dazzling and irenic backwaters. Because of its stunning coastal locale, Cochin enjoys a moderate and pleasant climate throughout the year. The southwest monsoons moisten this gorgeous land with hefty rains during the months of June, July and August, while the northeast monsoons dampen it with flimsy showers during the months September through December. The best time to admire the breathtaking beauty of comely Cochin is from December to February as the weather remains pretty cool and delighting.
Cochin Tourist Attractions
Cochin, the striking port city, is located in the southwestern coast of the Indian Subcontinent. This vivacious little town in Ernakulam district is also referred to as the "Gateway to Kerala". There are numerous tourist attractions in Cochin, particularly the stunning backwaters that shower an ultimate charm and offer a unique experience to tourists oncoming the city.
Cochin Excursions
Cochin is synonymous to the word "heavenly". Its scenic beauty carries a startling charisma which surely makes you its eternal fan at just one glimpse. Kerala's divine charm is not just confined to Cochin and if you yearn for exploring and diving in the colors of Kerala's other ultimately dazzling sites, there are ample excursion destinations nearby Cochin which hold an equal magical attraction. The excursion from Kochi introduces you to some majestic and rare sights of Kerala.
How to Reach Cochin
Cochin, or Kochi, depicts a fine portrait of eternally godly and outlandish natural beauty comprising of the marvelous Arabian Sea, wooded hills, lush greenery, placid backwaters, imposing harbors, and cheerful people. Cochin, being a chief trade center, is well linked by air, rail, and road. For those, who are planning to visit Cochin on your next holidays, can opt any of the given below modes of transportation to reach this amazing land.
Shopping in Cochin
Cochin is one of the most fascinating and inspiring cities of Kerala; thus, it does not lag behind in offering some great and varied shopping options to its visitors. The city is quite famous for its unique handicrafts, like figurines, multicolored bead jewelry and mat, and bangles, which you can easily find in alluring varieties. The shopping extravaganza in Cochin becomes more interesting with some stupendous purchase of spices and nuts.