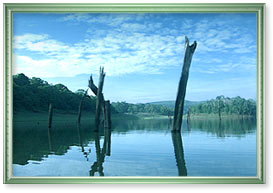 Thekkady, located in central Kerala, is a popular hill station and a major wildlife center. It is also an important plantation center that invokes up images of elephants, unending chains of hills, and aromatic spice plantations, spread picturesquely across the entire district, thereby holding enormous opportunities for treks and mountain walks. However, the town is best known for having India's largest wildlife sanctuary, the Periyar Wildlife Sanctuary. Not only it is the largest at 777 sq km, but it is also one of the finest wildlife reserves of India. The sanctuary is surrounded by an artificial lake spread over an area of 25 sq km formed by the Mullaperiyar Dam across River Periyar, further adding charm to the park. The sanctuary offers fairly good chances of viewing the great Indian tiger in its natural habitat. Though billed as a tiger reserve, Periyar is also famous for its wild elephants. Besides the tiger and elephants, other wildlife that can be spotted in the park includes Nilgiri tahr, Nilgiri langur, bison, deer, wild boar, and antelope. The Thekkady travel guide explores and highlights various travel attractions in the district.
Thekkady Excursions
Ample tigers, wild elephants, and Nilgiri langur welcome you as you firm your footsteps in India's one of the most remarkable wildlife sanctuaries and brilliantly preserved natural ecosystem, Periyar, situated in the picturesque Thekkady. Apart from wildlife exploration, there are many other excursions: pilgrim centers, rich plantation towns, trekking spots, picnic spots, and trading centers that people can explore.
How to Reach Thekkady
The word Thekkady is sufficient to bring forward the visuals of elephants, continuous chains of hills, and spice-scented plantations. Thekkady, known for possessing the amazing Periyar Wildlife Sanctuary, is located in the Idukki district of Kerala and lies close to the Kerala-Tamil Nadu border town, Kumily. Given here are the different ways of commuting to and around Thekkady.