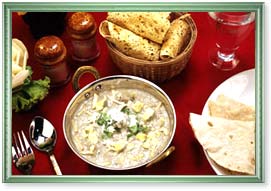 Like the unique cultural and natural heritage of the state, the cuisines of Kerala are also unique, special, and matchless. The cuisines of Kerala reflect the culinary expertise of the people. Generally, the Kerala cuisines are hot and spicy, fresh, aromatic, and flavored. Since Kerala is a rice producing state, Keralites thrive mostly on fish and rice. Some of the most commonly used ingredients in Kerala traditional food are coconut, chilly, curry leaf, mustard seed, tamarind, and asafetida. Thus, the traditional Keralite dishes are a result of the mix of the local Kerala produce and the traditional expertise, with coconut and bananas being an inseparable part of the delicacies. Some of the most popular Kerala dishes are as follows.
Rasam
Rasam is a mixture, prepared by boiling chilly and peppercorn powder in diluted tamarind juice. Another important Kerala food is 'Moru' or plain sour buttermilk, which comes salted, garnished with chopped green chilies and ginger.
Appam
Appam, another popular Kerala food, is a soft pancake made from toddy fermented rice batter, with a soft spongy center and is laced with crispy edges. Appam is generally eaten with vegetable, chicken, or mutton stew, thoroughly mellowed with thick coconut milk and garnished with curry leaves.
Puttu
Puttu is prepared from rice flour and steamed in long hollow bamboo or metal cylinders. Puttu can be eaten with steamed bananas and sugar or with a spicy curry prepared from gram or peas.
Dosa & Idli
Various varieties of dosas and idlis form an integral part of Kerala's breakfast cuisine, and can be found and dined upon without even having to search for them. While Idlis are slightly sour cakes, dosas, on the other hand, are a-kind-of flaky pancakes, made from a mixture of fermented rice and black gram. Both these foods are traditionally served with sambhar and/or coconut chutney.
Tapioca and Fish Curry
It is a sumptuous and mouthwatering delicacy. It is a combination of 'Kappa' and 'Meen curry'. The delicious fish curry is prepared from garlic paste, onions, and red chilies and seasoned with mustard seeds and curry leaves.
Seafood
Since Kerala is a coastal state, seafood is and will remain a popular cuisine. Various such as sardines, tuna, rays, mackerel, and even shark make a part of Keralite seafood cuisine, with Karimeen, or fried fish, and fish curry, known as Fish Moilee, being the most popular of fish dishes. Other seafood items like crabs, mussels, and oysters are also enjoyed passionately in Kerala.
Snacks
Apart from meals, various snacks also form an integral part of the Keralite cuisine. Snacks like banana chips; Murukku, made prepared from batter of rice, pulses, and spices; Shakaruperi, banana chunks coated with jaggery and ginger; and various kinds of halwas, made up from flour and sugar, and flavored with fruits and nuts, can be munched on throughout the day.
Desserts
Desserts form an essential part of the traditional Kerala meals. Desserts are served midway through the meals. Payasam is a popular dessert dish of Kerala. It is a viscous dish of brown molasses, coconut milk, and spices, with a generous garnish of cashew nuts and raisins. There are different types of payasams, such as the lentil payasam, jackfruit payasam, Bengal gram payasam, and so on. Adapradhaman, a rich payasam with thin rice wafers is considered a top delicacy. Another type of Payasam, which is also very delicious, is Palppayasam. It is made from sugar, ghee, and spices, brewed in creamy white milk, and served with 'boli', a golden yellow sweet pancake.