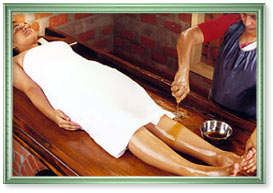 Kerala is well known for Ayurveda, Yoga, and meditation and attracts a large number of tourists for Ayurvedic treatments and holidays. Kerala's equable climate, abundant forests, and the cool monsoon season are best suited for Ayurveda treatment and cure. Kerala is one of the few states in India, which practice this system of medicine with absolute dedication. Another feature that makes Kerala a great Ayurveda destination is the easy availability of herbs and medicinal plants.
The best time to visit Kerala for
Ayurvedic Tour
and treatment is the monsoon season as the atmosphere, here, remains dust free, cool, and helps in opening the pores of the body to the maximum. It helps in making the body more receptive to herbal oils and therapy. It is because of these factors that Kerala is dotted with numerous Ayurveda resorts and health centers.
Ayurveda resorts of Kerala are known not only in India but across the world as well. The Ayurvedic treatments provided by these resorts have become very popular, especially during the monsoon season. Besides Ayurvedic therapy, Kerala is also popular for its beauty and culture. Most of the Ayurvedic packages come clubbed with sightseeing tours.
Most Ayurveda resorts in Kerala provide treatments and cure for ailments, such as arthritis, paralysis, obesity, sinusitis, migraine, premature ageing, skin ailments etc. The Ayurveda treatments and therapies cure, detoxify, and rejuvenate the entire body system. The Ayurveda health and fitness programs in Kerala are based on Ayurvedic oil massages and help in improving blood circulation, streamlining the body, building up immunity, ridding the body of toxins, and decreasing excess fat.
Here are some of the prime body treatments and body care in Ayurveda:

Pizhichil
Pizhichil, which means squeezing, is a type of treatment where lukewarm herbal oils are squeezed all over the body using a cloth and massaged by two to four trained therapists simultaneously, in a special rhythmic way constantly for about 60 to 90 minutes per day, for a period of 7 to 21 days. This treatment is highly useful for rheumatic diseases like arthritis, paralysis, hemiplegia, paralysis-agitanus, sexual weakness, nervous weakness, and nervous disorders. Moreover, it is a soothing procedure that further ensures improved blood circulation.
Njavarakizhi
Under Njavarakizhi treatment, the whole body or any specific part thereof is made to perspire by the application of cooked rice (shastika or navara) externally in the form of boluses tied up in a muslin bag. Two to four therapists apply this for about 60-90 minutes per day for a period of 14 days. This treatment is beneficial for all types of rheumatism, pain in the Joints, emaciation of limbs, high blood pressure, cholesterol, and certain kinds of skin diseases. Other benefits include strengthening of the body, rejuvenation of tissues, and improved muscle tone.
Dhara
In this process of Ayurveda treatment, some herbal oils, medicated milk, medicated butter milk etc. are poured on the forehead in a special method for about 45 minutes per day for a period of 7-21 days. This treatment helps in curing insomnia, Vatha predominated diseases, mental tension, and certain skin diseases. It even helps prevent graying of hair, reduces headaches, increases digestive power, and alleviates anorexia.
Vasthi
It consists of two therapies - first, Sneha Vasti, followed by Kashaya Vasti. Medicated oil enema is used in Sneha Vasti which is useful for all Vata disorders, such as constipation, neurological ailments, paralysis, lower backache, gout, and rheumatism. Kashaya Vasti that follows after a course of Sneha Vasti, utilizes a combination of herbal paste, oil, honey, and herbal decoction as per patient's condition and requirements. It is known to cure disorders such as arthritis, constipation, paralysis, gout, and neurological ailments.
Sirovasthi
Under this system of treatment, certain lukewarm herbal oils are poured into a cap fitted on the head for 15 to 60 minutes per day according to the patient's condition for a period of 7 days. Sirovasthi treatment is highly effective for facial paralysis, dryness of nostrils, mouth and throat, severe headaches, and other Vatha originated diseases.
Udvarthanam
It is a typical massage with herbal powder for about 30 to 45 minutes daily for a period of 14 to 28 days. This treatment helps in curing diseases like hemitplegia, paralysis, obesity, and certain rheumatic ailments. Besides, not only does this treatment impart a fair complexion to the skin, but it also helps in revitalizing the sense of touch and contributes to weight reduction.
Abhyangam
It is a special type of oil massage wherein strokes are given according to the diseases for about 45 minutes per day for 14 days. Even the detoxifying sesame oils are chosen according to what illness the patient is suffering from. This treatment is known to be very beneficial for various age related and other disorders, providing benefits, such as pain & stress relief, improved circulation, better sleep, and flexibility. Patients with problems of obesity, diabetes, and various skin diseases can make best use of this wonderful treatment.
Nasyam
It is a therapeutic treatment for nose, throat, sinus, and head that makes use of various herbal extracts and oils. Under this therapy, shoulders, chest, and face are massaged with specific herbal oils and are instilled into the nostrils while inhaling. The therapy is known be effective against various nasal infections and headaches, sinusitis, migraine, and rhinitis.
Snehapanam
Mediated ghee, made by processing herbal paste, herbal juice, milk, and ghee etc. is given internally in a proportionally increased quantity for a period of 8 to 12 days. The ghee lubricates all the channels inside the body and forces the toxins out from them into the digestive tract. This treatment helps in curing osteoarthritis, psoriasis, and leukemia.
Kizhi
Herbal leaves and herbs or herbal powders are applied to the whole body in boluses with hot medicated oils for 45 minutes per day for a period of 7 to 14 days. The treatment helps in curing osteoarthritis, arthritis with swelling, spondylosis, and sports injuries.
Dhanyamla Dhara
An infusion made up from cereals (Dhanya) and vinegar (Amla) is poured all over the body in a rhythmic way through a special vessel for a duration of 45 minutes to 1 hour daily. This treatment is very effective in curing hemiplegia, paralysis rheumatic complaints, and other such diseases.
Yoni Prakshalanam
Herbal oils and decoctions are applied through the vaginal route. This treatment is good for gynecological disorders. It is also a purification process for genital organs.
Kativasthi
In this process, specially prepared warm medicated oil is kept over the lower back with herbal paste boundary. This treatment lasts for 45 minutes to 1 hour and is good for any type of lower back pain and spinal disorders.
Urovasthi
Like Kativasthi, warm medicated oil is placed over the chest for 45 minutes. This is an effective treatment for asthma, other respiratory problems, heart diseases, and muscular chest pain.
Ksheeradhoomam
It is fermentation with medicated cow milk. This treatment is highly beneficial for curing facial paralysis, Bell's palsy, speech disorders, and other nervous disorders of the face.
Thalam
Special powder mixed with medicated oil is applied on top of the head for 20 to 45 minutes. This treatment is helpful in curing ENT problems, insomnia, and migraine.
Lepanam
It is a process by which medicated herbal paste is applied on the affected part, and is useful in curing various types of skin conditions, such as pimples, marks on the skin, pigmentation, and inflammatory conditions like arthritis, swelling and pain, and other injuries. The herbal powder and procedure to prepare the paste is selected according to the condition of the patient.