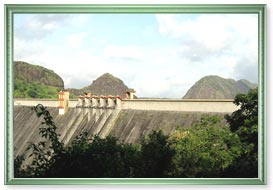 With the woody Sahya ranges ensconcing almost the entire geographical area, the astounding district of Idukki abodes the highest mountain peak and the largest region of woodlands in Kerala within its boundaries. The real wealth of the state's natural beauty falls here. Idukki lies on the edges of three tantalizing rivers, namely Periyar, Thalayar, and Thodupuzhayar, with their startling tributaries enhancing its charisma, flowing through rocky hills. Also, the River Pamba, which is regarded as eternally holy, originates from this charming district. As such, Idukki in Kerala is amongst the most alluring and beautiful places in Kerala. For visitors, Idukki has a lot to offer including fascinating wildlife sanctuaries, spice plantation trips, hill stations, mountain treks, Elephant rides, and much more. It is home to a large number of tribes as well, as their unique customs and beliefs, peaceful and multihued lifestyle is quite eye-catching.
Idukki district was established on January 26, 1972 and covers over an area of 5019 sq km. It was formed sundering out Devikulam, Peerumedu, and Udumbanchola taluks from the earlier Kottayam district, and Thodupuzha taluk from the former Ernakulam district. The name "Idukki" comes from the Malayalam word "idukku", meaning "a narrow valley." Idukki has become a popular site among tourists because of its extreme favorable weather and serene aura. This climate also nestles blooming vegetation and fascinating wildlife. Besides a pleasant weather, Idukki offers some enticing jungle walks and safaris, flawless picturesque beauty, stunningly beautiful waterfalls, a dazzling and aromatic natural sandalwood forest, and the country's first ever arch-dam. Another attractive place is the hill station, Munnar which is engulfed in lush greenery, magnificent vistas, amazing tea plantations, and well-maintained dairy farms. Idukki guide introduces you to every single aspect and attraction of the district.
Attractions in Idukki
Idukki, a land-locked district, is counted in the list of most stunning, calm, and tranquil destinations in Kerala. You will encounter ceaselessly dark regions because of dense forests engulfing them. The waters of Idukki are translucent and pure. Apart from these miraculous scenic charms, there are as array of places in Idukki which make this locale a paradise of Kerala.
Idukki Excursions
Unwind yourself in the comely narrow gorge of Idukki in Kerala. Idukki is an overwhelming and awe-inspiring land, where stunning beauty sprinkles in its air. A visit to Idukki introduces you to the quaint tribal life which is sure to amuse you deeply. Apart from the main district, there are several equally interesting excursion sites close to Idukki. All these picturesque sightseeing destinations, including extremely attractive sanctuaries, offer breathtaking scenic beauty, blooming greenery, and misty mountain ranges which calm your senses.
How to Reach Idukki
Idukki is an exceptionally alluring, famous, and significant district of Kerala. This poetic destination's landscapes are embraced with fascinating misty ranges, bewitching wooded valleys, three main captivating rivers, namely Periyar, Thalayar, and Thodupuzhayar, and their dazzling tributaries. Truly, words are just not enough to express the charm of Idukki; it is something that can be experienced only in person. If you cannot wait to visit this wondrous land, find out how to reach Idukki in the following lines.