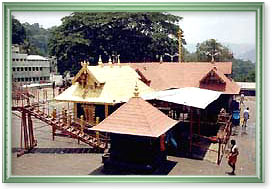 Sabarimala is one of the most famous and highly visited pilgrimage centers in India, particularly in South India. Being the most prominent and one of the oldest Sastha temples in Kerala, Sabarimala is located on the mountain ranges of the Western Ghats and is accessible only by foot from Pamba, at about 4 km. The Sabarimala Temple is dedicated to the Hindu God Ayyappan who meditated at this place after killing the powerful demon, Mahishi. This temple is remotely located amid 18 hills and dense forests, but still remains one of the best known pilgrimage spots in Kerala. It is believed that "Parasurama Maharshi" who retrieved Kerala from the sea by throwing his axe, installed the idol of Ayyappan at Sabarimala to worship Lord Ayyappan.
Mandalapooja and Makaravilakku are the two main events of the pilgrim season, which fall during the months of October and November. The doors of Sabarimala Temple stay closed during the rest of the year, except for the first five days of every Malayalam month and during Vishu. The pilgrimage to Sabarimala is one of the few examples of a pilgrimage where pilgrims, without consideration of caste, creed, position, or social status, come with one thought and one 'mantra' - dreaming continuously of the darshan of the presiding deity at the temple. The devotees are expected to follow a 41-day fast prior to the pilgrimage. This begins with wearing of a special Mala, after which people are refrained from consuming meat, fish, alcohol, tobacco, using foul words, having a hair-cut, and shaving. Thereafter, all devotees have to follow a 44 km long strenuous mountain terrain from Erumely.
Each pilgrim carries a cloth bundle, known as the Irumudu Kettu in the local language, which contains traditional offerings of ghee kept inside a coconut for the Abhishek of Ayappa, the deity of Sabarimala Temple. The temple is unique in many aspects since it is open to all people, irrespective of caste, creed, and religion. Despite this, a special rule applies for women visiting the temple - only girls who are below the age of puberty are allowed inside the temple premises. It is said that the charm of this temple is such that if a devotee visits this pilgrimage once, he continues coming to this place year after year in search of spiritual solace.