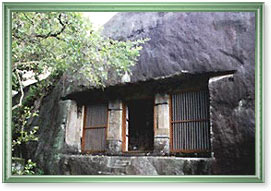 One of the ancient 64 Brahmin settlements of Kerala that has been appearing in history books for quite sometime now, Kaviyoor is a small village situated on the western bank of River Manimala in Thiruvalla Taluk in Pathanamthitta district. Previously known as Kapiyoor, this minuscule parish is famous for its treasure of magnificent ancient temples. With several temples present here, Kaviyoor witnesses visitors from all parts of India and abroad in huge numbers. Besides, it has become a pilgrim center for all religious folks. For this reason, commuting to Kaviyoor is no more a problem as it is connected through rail from Thiruvalla railway station, just 5 km from here, linking all major cities of India, like Delhi, Hyderabad, Mumbai, Chennai, Kolkata, and Bangalore. Plus, it is easily accessible from two airports, Trivandrum International Airport and Cochin International Airport, both at equal distances. Let's take a look at the different temples sited at Kaviyoor that make it an interesting and fascinating place to visit.
Kaviyoor Thrikkakkudi Cave Temple
Also known as Rock Cut Cave Temple, this ancient shrine is carved on a huge rock, with carved rooms and sculptures marking the main attractions. The temple is maintained and preserved by the Archaeological Department. As you enter the temple premises, you will be welcomed by a sculpture of Lord Ganapathy in the verandah, carved in the wall, while the inner sanctum boasts of a tall shivalinga, engraved from a single rock. The engravings, resembling the Pallava style of architecture, are considered to be the earliest specimens of stone sculptures in Kerala. The temple houses the idols of Ganapathy, Maharshi, and Dwarapalakas, which are believed to have been constructed during the Pallava dynasty between 608 and 850 AD.
Kaviyoor Mahadevar Temple
With a distinctive style of architecture, the Kaviyoor Mahadevar Temple is regarded as one of the oldest Mahadeva temples of Kerala. Standing tall on a small hillock, the gable style of architecture brings the temple into limelight. Constructed in early 10th century, Kaviyoor Shasanas of 950 AD has several references of the offerings made to this temple. Also known as Thrikkaviyoor Mahadevar Temple, Lord Mahadeva (Shiva and Vishnu) is the main deity worshipped here. Besides, it is also referred by the names of Hanuman Temple and Sri Parvati Temple. The specialty of the temple is that prayers for Sri Parvati are performed only for 12 days in a year, while Lord Shiva is worshipped on a daily basis. Plus, the temple is famous for Mangalya puja, wherein people visiting and offering prayers regularly are believed to be blessed with good potential mates.
Njaliyil Bhagavathy Temple
Dedicated to Bhagavathy, or Bhadrakali, the temple of Njaliyil Bhagavathy is sited at a kilometer from the main Shiva temple in the Njalikandam province of Kaviyoor. Initially owned by the immigrants of Kodungalloor, Naithallur Illam, the temple is now operated by the general public. The temple is popularly known for the 'Ashwathy' festival, occurring in the month of Makaram, or January. Young women carrying lamps/wicks and grain in decorated trays for pleasing the deity makes a colorful and striking panorama. Besides, there are other events equally eye-catching and captivating, such as Noottiyonnu Kalam, Pongala, Annadaanam, and Padayani.