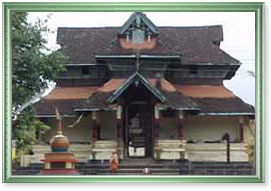 Situated at the bank of Pampa River, Parthasarathi Temple draws large crowds of devotees. Lord Krishna at Aranmula is worshipped in the form of Parthasarathi which is an image of Lord Krishna from the epic book "Mahabharata" where he is referred as the divine charioteer. The Parthasarathi Temple is significant because of the sacred jewels of Ayyappan, the temple god of Sabarimalai which are taken out on a procession. Besides, the sacred Aranmula boat race that is held on the last day of the weeklong Onam festival also makes this temple a sought-after destination. The Vijnana Kalavedi at Aranmula imparts training in traditional performing arts, like Kathakali, classical dances, classical music, and Kalaripayattu.
Foreign tourists stay here for longer periods to get a first hand knowledge of the culture and customs of Kerala. The Parthasarathi Temple walls are adorned with beautiful murals depicting various scenes from the Hindu mythology. The murals found here were painted by artists during the 18th century and are preserved with such verve that they still look vivid and lifelike. The temple has four towers which rest on the outer walls of the entrance. What's more, the fleet of steps which descend from the temple directly towards the Pampa River is a spectacular experience in totality.
Legend has it that the idol worshipped at Aranmula was originally installed at Nilakkal by Arjun, one of the Pandavas. Aranmula is a suburb in Kozhencherry, in the state of Kerala. Aranmula is also popular for water sports and hence, is the venue of the annual Snake Boat Race organized on Pampa River. The boats participating in the event are huge with 4 helmsmen, 100 rowers, and 25 singers who sing Vanchipattu songs throughout the race. After the completion of the race, a traditional feast is organized inside the temple premises by the devotees as an offering to God.
Another famous festival that is celebrated with gaiety and fervor is Khandavanadahanam which is commemorated according to the Malayalam calendar during the month of Dhanus. A replica of a forest is created in front of the temple using twigs, dried leaves, and wood. Thereafter, the bonfire is lit making it a symbolic act of the Khandavana fire episode of "Mahabharata". The place is also famous for its special metal mirrors which are known as Aranmula kannadi in the native language. Vijnana Kala Vedi, a school of traditional art founded by French artist Louba Schild, is situated in Aranmula on the way to Kozhencherry. Apart from these tourist spots, Aranmula is revered for the Vaasthu Vidya Gurukulam, the traditional way of constructing buildings.