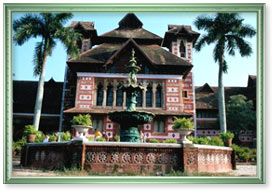 The 19th century old Napier Museum and Art Gallery is located in the Napier Museum compound, in the center of the city. The museum is a classic example of Kerala's rich cultural heritage, with the structure built in the Indo-Saracen style. An extraordinary and distinctive piece of architecture, the museum is a treasure house of a rare collection of archaeological and historic artifacts, ancient ornaments, bronze idols, ivory carvings, and a chariot. The naturally cooled compound is a representation of the principles of physics and architecture that saves fuel and electricity. Another attraction that makes the museum premises eco-friendly is that use of plastic is banned in the vicinity of the museum.
The Napier Museum complex reveals and showcases the rich cultural heritage of Kerala. The museum is a delightful marvel with its green surroundings and platonic gardens. The museum is named after the former Governor General of Madras, Sir John Napier. The museum is also known by the name of Government Art Museum. Interestingly, the museum building sports a rare combination of Kerala, Mughal, Chinese, and Italian architectural styles. The Sree Chitra Art Gallery inside the Napier Museum features a rare collection of paintings by Raja Ravi Varma, Roerich, and some fascinating works from the Rajput, Mughal, and Tanjore schools of painting.
Another attraction at the museum is the oriental collection, comprising of paintings from Japan, China, Bali, and Tibet. This collection is a treat to your eyes and acknowledges the art and culture of these countries. The museum holds some artifacts which clearly exhibit the cultural harmony between Indian and other cultures. These exhibits serve as the evidence of cordial relations between India and neighboring countries, like China. The Napier Museum and Art Gallery is sited 2 km from the Thiruvananthapuram Central railway station, with the nearest airport being Thiruvananthapuram International Airport, about 6 km from the city. The museum can be visited on all days from 10:00 am to 5:00 pm, except on Mondays and Wednesday forenoon.