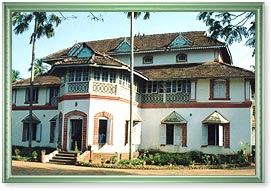 Formerly known as Sree Mulam Chithrasala, Archaeological Museum Thrissur was set up as an art gallery in 1938. Initially situated at the Town Hall Road, the museum now stands tall and delightful at the Kollengode Palace. The vast collection of murals and relics from all over Kerala make this museum an architectural marvel to view. The museum also houses life-size statues of famous and eminent personalities like kings, famous artists, tribal chiefs etc. Many intricately created miniature models of old buildings and temples are carefully preserved here. Firmly placed are the manuscripts, known as olagrandhangal, that store the written history of the place, penned on dry palm leaves. Most of the artifacts displayed at the museum were recovered from the forests of Thrissur and Wayanad districts.
The Archaeological Museum is popular for the beautifully copied mural paintings, considered to be masterworks of artists, like T.R. Madhava Warrior, V.S. Unni Nair, and N.O. Antony. One of the pride possessions of the museum is a rare collection of stone engravings and carvings, called Veerakallu in the local language. Other exhibits on display at the museum include an array of megalithic wares and pottery, urn burials, russet coated wares, Stone Age tools, items excavated from north Indian civilizations like Harappa and Indus Valley Civilization, stone sculptures dating back to the 7th century, and bronze sculptures dating back to the 10th century. Excavated materials from Nenmeni Village, near Kollangode also are displayed in this museum.
The museum is a treasure of ancient artifacts set up in a building, constructed by the king of Kollangode for his daughter. The building showcases a unique blend of traditional Kerala architecture with Western designing. The Archaeological Museum at Thrissur is a place where history comes alive in all its forms, be it painting, sculpture, culture, religion, performing arts, architecture, or literature. The archaeologists consider the museum to be one of the most complete museums in India in terms of availability of artifacts and diversity in the types of remnants. The museum is located in the compounds of Thrissur Zoo and can be conveniently reached by road using public transport or private vehicle. The museum is maintained by the State Archaeology Department.