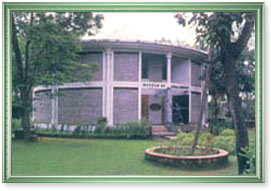 Kerala is a land of culture, myths and epics which form a backdrop for the contemporary state of Kerala. The Museum of Kerala History is dedicated to such a glorious past which stores in itself the ethnic and splendid stories of bravery, valor, and comprehension of the art and literature. Famed poets like Kalidas have described Kerala as the "land of picturesque imagery and scenic beauty". This museum is situated about 10 kilometers from Ernakulam, Cochin at Edapally. As the name suggests, the museum showcases the great cultural legacy of both Kerala and India. The museum not only retells the past but is an artistic presentation of three dimensional visuals which remain etched in one's mind, even after he leaves this place.
The Museum of Kerala History houses the MNF Gallery of Paintings and Sculptures, and the Center for Visual Arts. 87 figures that shaped the history and culture of Kerala during past two thousand years can be artistically viewed at the museum as Light and Sound Tableaus. The story, from the early people of Kerala till the modern age, interspersed with social, cultural, and literary facets, is a mesmerizing and remarkable one. Have a look at the diverse cultural and traditional heritage of Kerala, besides learning many other interesting facts about this beautiful and striking destination. The location at Cochin makes the museum a haven for artifacts, scriptures, and cultural heritage of Kerala.
The noteworthy MNF Gallery showcases some immortal creations, which gives a glimpse of the magnificent past and rich cultural tradition of Kerala. The gallery displays the works of some of the greatest exponents of Indian art, including the paintings displaying the history of Kerala. Some of the great masters whose works have been exhibited include Raja Ravi Varma, Mammiyoor Krishhan Kutty Nair, Jamini Roy, Manu Parekh, and MF Hussain. All paintings displayed here are masterpieces which sing about the lore of the lost times. The Museum of Kerala History remains open from 10 am to 5 pm on all days, except Mondays and public holidays.