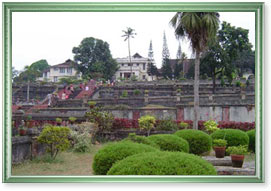 The largest archaeological museum in Kerala, Hill Palace Museum lies in the picturesque Tripunithura, 12 km southeast of Ernakulam on your way to Kottayam. Formerly the residence of the Kochi royal family, the museum is a 49-building palace complex, enclosed by 52 acres of awe-inspiring terraced land with ponds, fountains, gardens, and lawns. Built in 1865, the museum also enjoys the privilege of being the first heritage museum at Kerala. The royal collections of the former Maharaja of Kochi have been preserved and maintained here. The palace property has a deer park and facilities for horse riding as well, apart from admiring the several species of flora and rare medicinal plants flourishing here.
Oil paintings, murals, inscriptions, coins, stone sculptures, manuscripts, belongings of the Kochi royal family, and royal furniture are the main highlights of this ethno-archaeological museum. The oldest building in the complex is a single storied Keralite-architectural styled 'ettukettu', constructed around 1850 AD with an adjacent pond, temple, and 'urappura'. The other buildings are a perfect blend of traditional and western architecture. The latest addition to the museum compound is a 3-storied western style building, established in 1950 and is used as the office for the museum. Other exhibits of Hill Palace Museum include more than 200 antique pieces of pottery and ceramic vases from China and Japan, Kudakkallu (tomb stone), menhirs, granite, Thoppikkallu (hood stone), laterite memorials, wooden temple models, and rock-cut weapons from the Stone Age.
The museum is a treasure of contemporary art, displaying numerous items from the relatively modern period. The palace is maintained by the State Department of Archaeology. The building was taken under control by the department 1980, but the building was officially opened for public only in 1986. Situated on a hillock and surrounded by spectacular environs, the palace is a demonstration of 14 categories of exhibits, including paintings, murals, sculpture in stone and plaster of Paris, manuscripts, inscriptions, carvings etc. Along with this, the traditional 'Nalukettu' at the northern end of the palace has been renovated with intricate wood carvings and Kookaburras have been restored by repairing the compound walls and replacing the tiles. The closest railway station is at Ernakulam, about 10 km away, with the nearest airport being Cochin International Airport at a distance of 30 km.